The Sustainability Office connects UMBC students to various sustainability engagement projects. Graduate and undergraduate students have many opportunities to engage in unique academic enrichment and professional development opportunities. The Sustainability Office wants to empower students to actively participate and take ownership in sustainability topics that are important to them. To help with this strategy we provide a platform for you to showcase your research; furthermore,  we connect you with campus/regional projects, conferences, and peer-review publishing opportunities.
At UMBC's Sustainability Office we know that Graduate Students are looking for relevant and enriching activities that allow you to engage in sustainability efforts while also enhancing your career. That's why we are working with GSA to promote you and your work! There are many sustainability-related activities that require very little time commitment but yield very big CV benefits. Please explore the following categories to see how you can demonstrate your sustainability competencies!
The Sustainability Office knows that our students want to become involved in sustainability both in the classroom and in their lives. To accommodate your interests and passions the Sustainability Office offers several ways for you to learn more about sustainability while also sharing your experiences with the greater UMBC community.
Are you passionate about sustainability and want to leave a positive impact at UMBC? If you said yes, then look no further because the Eco-Ambassador (EA) program was designed for students just like you!
The Eco-Ambassadors are a core group of sustainability peer educators. As a peer educator, you will play a vital role in the promotion of sustainable living at UMBC. Peer education embraces the idea that members of the community, rather than outside experts, are in the best position to encourage choices for sustainable living.
As an Eco-Ambassador you will have the freedom to work on a campaign centered around a project of your choosing. You will work closely with the Office of Sustainability and your fellow ambassadors to achieve your goals for the year. The program is created not only to make UMBC more sustainable but also to help students gain skills and professional experience.
Did you know that your interests can translate into research and have big sustainability impacts? Many of UMBC's students and faculty are inquiring and hypothesizing about topics connected to sustainability systems on local, regional, national, and global levels. UMBC's Office of Sustainability is working to better understand how our community's academic interests and pursuits align with the 17 United Nations Sustainable Development Goals (SDGs). The SDGs, adopted by 193 countries, are the world's call to action on the most pressing challenges and opportunities facing humanity and the natural world. Did you know that your interests can translate into research and have big sustainability impacts? Many of UMBC's students are inquiring and hypothesizing about topics connected to sustainability systems.
We want to highlight your research in the UMBC Student Sustainability Research Dashboard! 
All you need to do is submit a brief abstract (3 or 4 sentences) of your work. Your research can be just starting, ongoing, or finished. Even if you're not sure if it is related to sustainability we ask you to still submit it and our team will evaluate it against the SDGs to determine if it fits.
Do you have an independent or group project for a class? Do you want to focus on something related to sustainability? If so, reach out to us today! Our Office is happy to work with you on everything from brainstorming about the project to connecting you with the proper resources on campus!
Conference & Journal Announcements
Call for Proposals: "Emerging Issues"
The Emerging Issues Call for Proposals for the 2021 AASHE Global Conference on Sustainability in Higher Education (GCSHE) is now open through Aug. 20! Proposals related to racial justice, campus...
Posted: July 22, 2021, 11:22 AM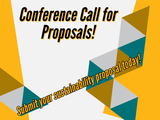 Building Power, Deepening Democracy: Global Perspectives on Environmental Justice Submission Deadline: All manuscripts should be submitted for consideration by December 31, 2021. The global...
Posted: July 22, 2021, 10:58 AM