The Office of Sustainability welcomes you to UMBC! Every member of our campus community has a role to play in advancing a sustainable campus. From learning the basics about sustainability, working with campus groups, or championing new ideas and practices.
These guides have been created to help assist all UMBC members in becoming more sustainable.
Students
The New Student Green Guide is a one-stop shop for all things sustainability-related here at UMBC. From tips on how to recycle on campus to finding a sustainability club that fits your interests, this guide will help all new retrievers reduce their impact at UMBC and beyond.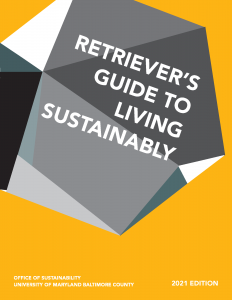 Employees
Whether you are a new employee or veteran, this quick reference card is a fast way to get familiar with sustainability initiatives here at UMBC.