Environmental Stewardship
UMBC's campus serves as a living laboratory of sustainable practices by integrating interdisciplinary innovations from our academia, student life, and campus operations.  Additionally, UMBC plays an active role in protecting the Chesapeake Bay through the stewardship of our watershed.  The campus is home to many stormwater best management practices including rain gardens, bioswales, vegetated roofs, permeable pavers, and stormwater retention and detention basins. These various features help to mitigate stormwater pollution from run-off and to minimize the impacts of erosion and sedimentation on our local waterways.
Conservation and Environmental Research Area
The Conservation and Environmental Research Area (CERA) is a 50 acre protected natural area on campus established in 1997 thanks to the efforts of Dr. Eugene 'Sandy' Parker, Chair of the Geography & Environmental Systems(GES) Department. When plans to expand the campus through the development of a research park arose, the campus carefully set aside space to remain forested in response to concerns on the environmental impacts of the development, raised in the Landscape Stewardship Committee. The committee was established at the request of faculty, who along with students, played a major role in advocating for the environment as a priority.
CERA is used every semester as a living lab for professors and students alike. There are at least 9 courses including Science 100, GES 220, and GES 286 all go to CERA as a part of their class. In SCI 100 over 700 students annually study the science of water. GES 220 students learn field techniques and use their new skills to develop their own projects. GES 286 introduces students to the world of satellite imagery and GPS technology.  UMBC students are given the unique opportunity and support to conduct independent student research as well as faculty research in the campus itself.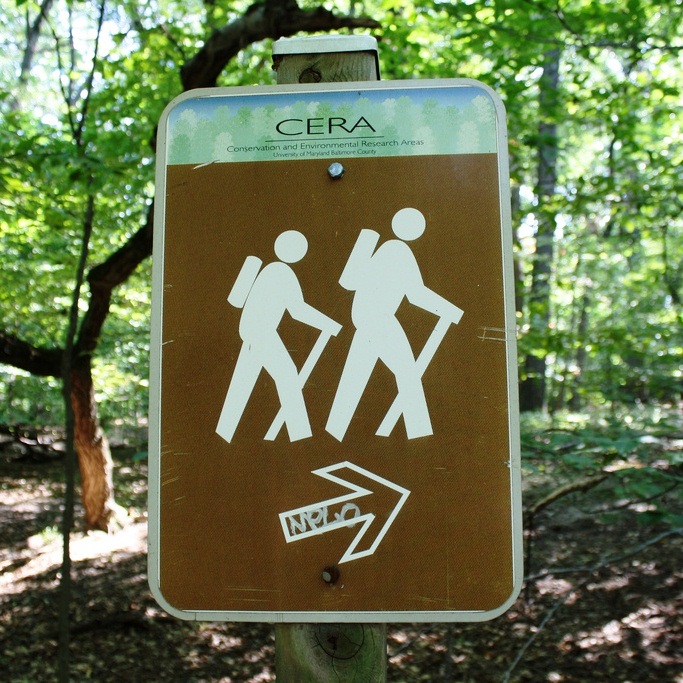 The park has been described as one of Baltimore's most contemplative and tranquil art experiences. Founded in 2000 by the UMBC Center for Art, Design and Visual Culture with Sacred Nature, the public park features a bucolic arrangement of 30 trees and boulders. The installation, one of Baltimore rare examples of large-scale "land art," is at once beautiful and thought provoking, a celebration of the power of nature—and art—to inspire and heal.The Joseph Beuys Tree Partnership was inspired by German visual artist Joseph Beuys' (1921-1986) extensive 7000 Oaks tree planting project. Joseph Beuys used an image of an oak tree on a postcard announcing his original project in 1982, and wrote below the tree: "An Idea Takes Root." By involving many community members, ideas will take root, and people will get themselves in motion to plant more trees and improve their communities in other creative and self-determined ways. As part of the Tree Partnership, over two hundred trees were planted among Patterson Park, Carroll Park, and Wyman Dell Park, all within Baltimore City. Thirty trees and stones were placed at UMBC's sacred space, and each year the ensuing growth of each tree adds to the significance of the site.
Herbert Run Greenway: Engaged Learning
Patricia La Noue, a long time member of the UMBC Community and former Director of Interdisciplinary Studies spearheaded the efforts to establish the Greenway along with volunteers, students, and supportive partners. Her interdisplinary course allowed students hands on experience with designing many aspects of the Greenway.
Vegetated buffers along water ways protect natural habitats and improve water quality
The Herbert Run Greenway follows the Herbert Run, a small stream running through campus
The greenway connects UMBC campus's key green spaces such as the Joesph Beuys Sculpture Garden the Conservation and Environmental Research Areas, CERA.
Provides a scenic trail between recreational fields utilized by UMBC athletes and Arbutus youth and the Research Park
The Green Space:
The 2008-09 UMBC Prove It! Campaign, a UMBC Student Government Association (SGA) initiative, provided $50,000 for a new Green Space, located near the entrance of the Center for Art, Design and Visual Culture at the Fine Arts building and Lot 16 – a highly traveled area of campus. With the help of her peers and faculty, Elani Odeyale '09 led the Green Space initiative through the planning and construction phases.Green Space: Prove it!