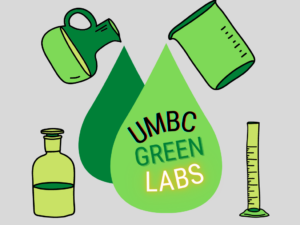 UMBC is pleased to support the My Green Lab Ambassador Program. The program is designed for scientists and laboratory professionals who are motivated to encourage their lab to be more sustainable. This free, online learning program will provide you with a quick introduction to lab sustainability and ideas for how sustainable actions can be implemented at your organization. By becoming a My Green Lab Ambassador you will be able to jumpstart your lab's journey into sustainability.
Labs that have successfully completed the My Green Lab Ambassador Program should submit a copy of their certificate to the sustainability office. Those labs will be considered UMBC Green Labs!
A UMBC Green Lab is a lab that has successfully had one faculty or staff member complete the My Green Labs Ambassador Program. These labs and their associated departments will be featured on a special interactive webpage. Additionally, all UMBC Green Labs have the option of submitting more information about their research. This information will be used by the Sustainability Office to highlight the lab's research efforts and commitments to sustainability. A UMBC Green Lab certification is valid for 4 Academic Years.
YES! Student researchers can also be a part of this program. UMBC's Office of Sustainability will highlight research work from UMBC students who successfully complete the program.