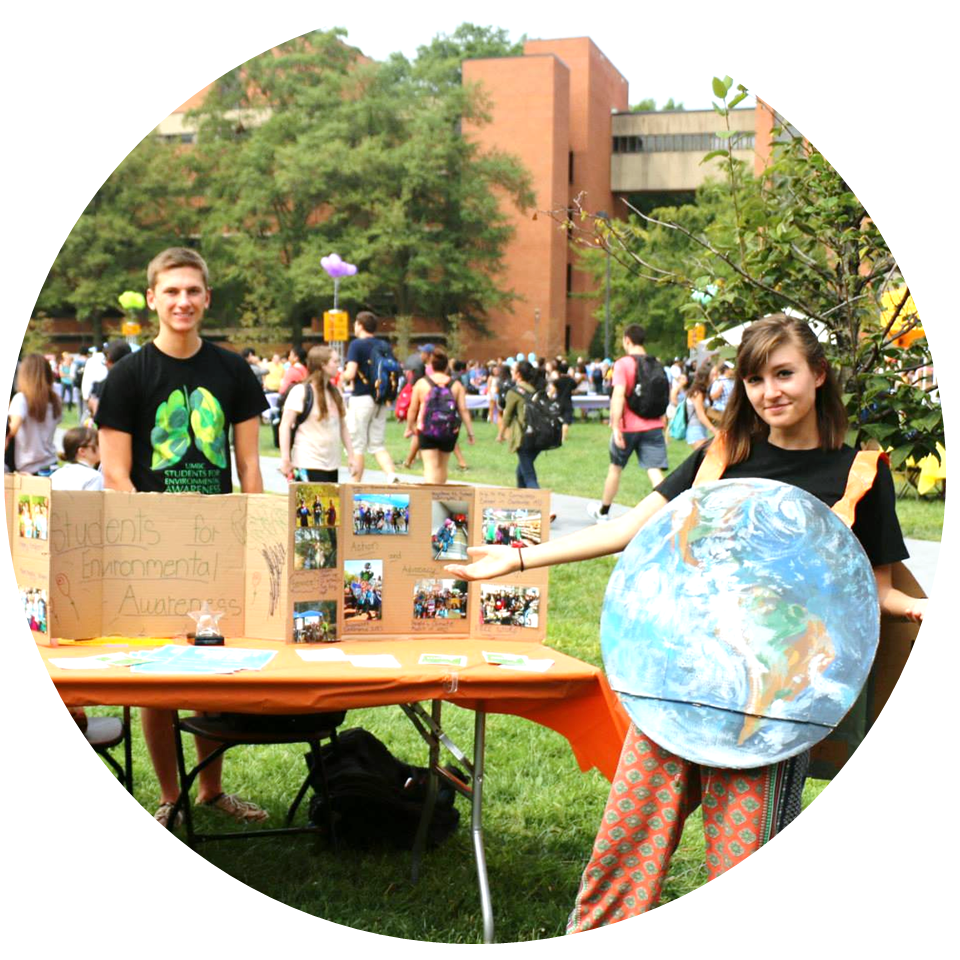 A bit of thoughtful planning can save resources, reduce trash, and protect the planet! To make it easy, we've compiled some tips, resources, and links to help you get started with hosting eco-friendly events at UMBC! Our newly launched Zero Waste Event Guide makes it easier than ever.
WHAT IS A ZERO WASTE EVENT?
A zero waste event is an event that produces 10% or less landfill waste, meaning that 90% of the waste produced at the event will be composted or recycled.

Other aspects of zero waste and sustainability should also be considered, most importantly minimizing food waste.
​HOW CAN I HOST A ZERO WASTE EVENT?
Follow our Zero Waste Event Guide, which

 will walk you through the planning process and steps necessary to make your event zero waste.
The Office of Sustainability staff is happy to help at any step to provide guidance on how to make your event successfully sustainable. If you have questions in the planning process, please contact the Office of Sustainability at sustainability@umbc.edu.
PICKING A GREEN LOCATION:
If the event is during the day try picking an outdoor location, or a room ​with enough windows to eliminate the need for overhead lights. ​
​Use a space with a projector hook up. You can present your information digitally to reduce paper.
Invite the UMBC Eco-Ambassadors (student sustainability educators) to speak or table at your event.
REDUCE THE TRASH:​
When reserving your event location, request composting and recycling bins for waste pickup.

Compost bins can be ordered by submitting a request to Work Control via the ReADY system. Watch the Video Tutorial

Choose "Grounds and Exterior."

Choose "Grounds maintenance areas (other outdoor area)" as the location (no need to choose a sub-location when that box pops up).

Select "Trash/Recycling (dumpster removal) and in the comments write "Event Compost Collection" AND the event location, date, and start/end time.

Note: compost bins should come with our standard recycling signage to give guests guidance on what can and cannot be composted, but you can access digital copies here. You may have to provide some clarification to guests based on the specific items that you or your caterer have purchased.

Learn more about the office for event planning at http://www.umbc.edu/thecommons/epcs/​
You can compost food scraps and soiled paper products like paper cups, paper napkins, and paper plates!
Post recycling and composting labels and make an announcement, so everyone at your event knows how to sort any waste, recycling or compost at your event: http://sustainability.umbc.edu/waste/​
Digital advertising reduces paper waste. Consider utilizing an iNet ​video ​ad ​with commonvision ​​instead of printing many flyers
Save paper and money: If you print flyers, choose quarter cards or half sheet flyers. Print on recycled paper and use both sides. ​
GOT SUSTAINABLE FOOD? 
Use compostable or reusable cutlery and dishes. If you​r​ event is catered through Chartwells you can request both​ while placing your order​! It's cheaper to buy paper plates on your own instead of compostable plates through catering.
Instead of offering individually packaged disposable water bottle or drinks, you can order a water or drink dispenser with compostable cups from Chartwells or most caterers. You can even buy reusable cups with your logo on them as a sustainable souvenir!
Choose food that requires little packaging, and that is less processed and plant-based.
Eat Local! You can request vegetarian, local and organic ​food through Chartwells and they will work with you to meet your needs. Or find focal and organic food through a natural food store, restaurant andor caterer.
BEFORE YOU LEAVE:
​L​eave the space better, cleaner and greener than when you entered.
Make sure all waste in the appropriate bin
​T​urn off the lights ​and any electronics ​before you
Contact: http://sustainability.umbc.edu | sustainability@umbc.edu