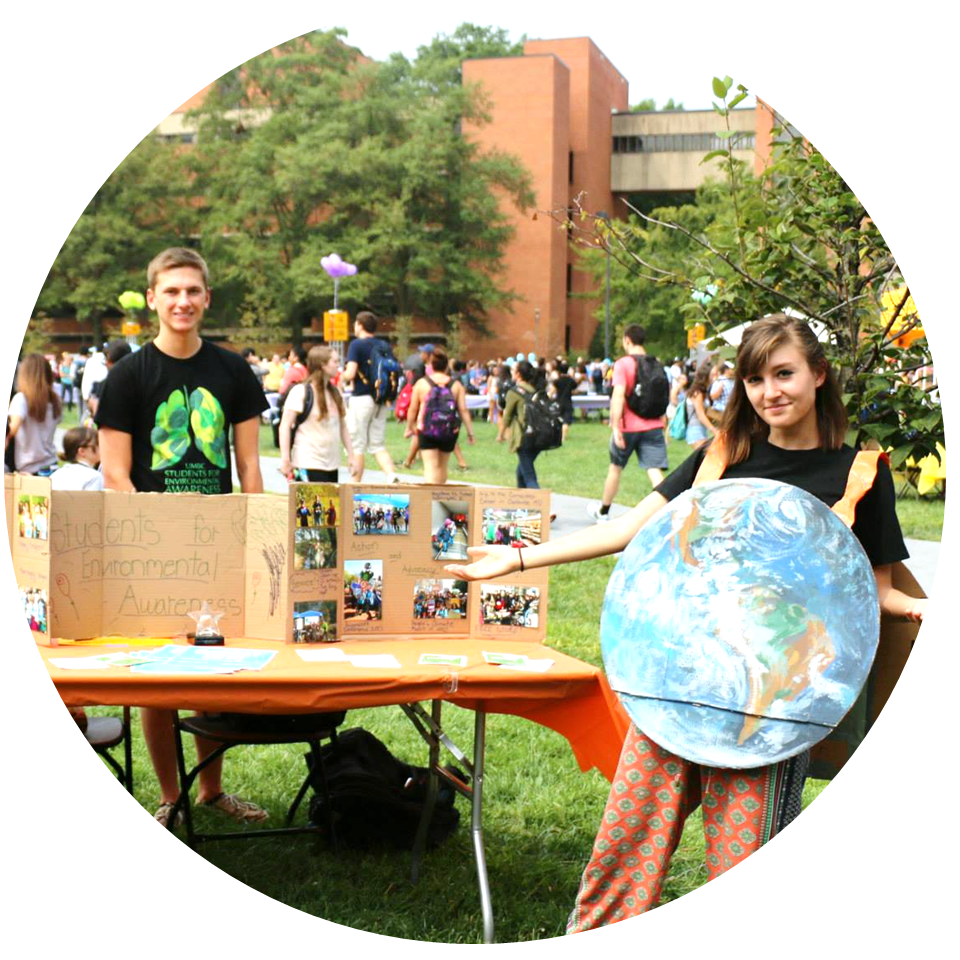 A bit of thoughtful planning can save resources, reduce trash, and protect the planet! To make it easy, we've compiled some tips, resources, and links to help you get started with hosting eco-friendly events at UMBC!​
PICKING A GREEN LOCATION:
If the event is during the day try picking an outdoor location, or a room ​with enough windows to eliminate the need for overhead lights. ​
​Use a space with a projector hook up. You can present your information digitally to reduce paper.
Invite the UMBC Eco-Ambassadors (student sustainability educators) to speak or table at your event.
REDUCE THE TRASH:​
When reserving your event location, request composting and recycling bins from house keeping​. Learn more about the office for event planning at http://www.umbc.edu/thecommons/epcs/​
For compost bins and recycling bins at your event, submit​ a request to Work Control. They will also need to collect your recycling and compost at the end of the event. http://fm.umbc.edu/work-request/
You can compost food scraps and soiled paper products like paper cups, paper napkins, and paper plates!
Post recycling and composting labels and make an announcement, so everyone at your event knows how to sort any waste, recycling or compost at your event: http://sustainability.umbc.edu/waste/​
Digital advertising reduces paper waste. Consider utilizing an iNet ​video ​ad ​with commonvision ​​instead of printing many flyers
Save paper and money: If you print flyers, choose quarter cards or half sheet flyers. Print on recycled paper and use both sides. ​
GOT SUSTAINABLE FOOD? 
Use compostable or reusable cutlery and dishes. If you​r​ event is catered through Chartwells you can request both​ while placing your order​! It's cheaper to buy paper plates on your own instead of compostable plates through catering.
Instead of offering individually packaged disposable water bottle or drinks, you can order a water or drink dispenser with compostable cups from Chartwells or most caterers. You can even buy reusable cups with your logo on them as a sustainable souvenir!
Choose food that requires little packaging, and that is less processed and plant-based.
Eat Local! You can request vegetarian, local and organic ​food through Chartwells and they will work with you to meet your needs. Or find focal and organic food through a natural food store, restaurant andor caterer.
BEFORE YOU LEAVE:
​L​eave the space better, cleaner and greener than when you entered.
Make sure all waste in the appropriate bin
​T​urn off the lights ​and any electronics ​before you
Contact: http://sustainability.umbc.edu | sustainability@umbc.edu