UMBC has a history of working to implement sustainable practices on campus while also researching sustainable opportunities in the classroom. These actions create and demonstrate positive social, economic, and environmental impacts both locally and globally. 
Ratings & Recognition
Featured News
Learn more about her work on invasive species on campus!
Our Sustainability Fellow, Bella Dastvan, recently wrapped up her fellowship, but her work on invasive species will certainly outlast her tenure with our office! Check out this great article from...
Posted: July 10, 2023, 10:05 AM
Studying Sediment Storage in a [Water]Shed
We invite you to join us in celebrating Jason Chase, who successfully defended his master's thesis on "Assessing the role of culvert sediment storage in an urbanized watershed" Tuesday, June 27th....
Posted: June 29, 2023, 11:35 AM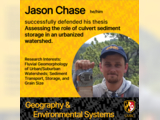 How to handle poor air quality conditions
You've probably heard a lot more about air quality in the past few days...and for good reason! Air quality is consistently an issue in the Baltimore region (especially in the summer), but the...
Posted: June 8, 2023, 8:40 AM