UMBC has a history of working to implement sustainable practices on campus while also researching sustainable opportunities in the classroom. These actions create and demonstrate positive social, economic, and environmental impacts both locally and globally. 
Ratings & Recognition
Featured News
Applications Open
The Center for Community Engagement, Environmental Justice, & Health (CEEJH) is launching the 2023 Environmental Justice Summer Scholars Program. Applications are currently open!...
Posted: March 27, 2023, 10:26 AM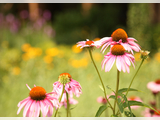 Written by Noorzehra Zaidi, assistant professor of history, UMBC For many Muslims breaking fast in mosques around the world this Ramadan, something will be missing: plastics. The communal...
Posted: March 23, 2023, 9:24 AM
Join UMBC Faculty to participate in the 2023 global teach-in
UMBC faculty will be giving open talks on a range of climate change issues from Tuesday March 28th through Thursday March 30th. Come learn more about the science behind climate change and its...
Posted: March 22, 2023, 9:35 AM