Join us for lunch & to watch student-made compost vidoes!
Location
Off Campus
Date & Time
May 8, 2023, 12:00 pm – 1:00 pm
Description
Join us to watch three short films about compost on UMBC's campus and beyond! These films were created thanks to a collaboration between Dr. Susan Sterett in Public Policy, Dr. Bill Shewbridge in...
MLL Documentary Film Festival Event
Location
Online
Date & Time
May 1, 2023, 6:00 pm – 7:00 pm
Description
"Through shard-like glimpses of everyday life in post-Hurricane María Puerto Rico, LANDFALL is a cautionary tale for our times. Set against the backdrop of protests that toppled the US colony's...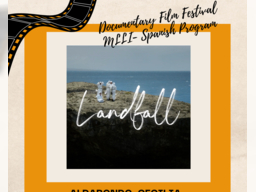 View Event Details for Documentary screening online with discussion: Landfall
Create paper from reused materials & invasive plants!
Location
Off Campus : OCA Mocha
Date & Time
April 28, 2023, 2:30 pm – 5:00 pm
Description
Invasive species are a threat to our forested spaces + native trees on campus. We need to spread awareness and take action on protecting our native forest species in the face of climate change....