UMBC has a history of working to implement sustainable practices on campus while also researching sustainable opportunities in the classroom. These actions create and demonstrate positive social, economic, and environmental impacts both locally and globally. 
Ratings & Recognition
Featured News
Showing items tagged stormwater. Show All
CSN Chesapeake Urban Stormwater Professionals
UMBC's Sustainbility Office was invited to participate in the Chesapeake Stormwater Network's (CSN) first cohort for the Chesapeake Urban Stormwater Professionals (CUSP) program. Our...
Posted: January 6, 2023, 7:59 AM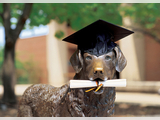 Review Climate Change Intensity-Duration Frequency Curves
The Mid-Atlantic Regional Integrated Science and Assessments (MARISA) Team has launched a new  interactive tool from the  makes climate-change informed intensity-duration-frequency (IDF) curves...
Posted: August 12, 2021, 1:11 PM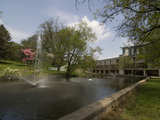 For stormwater and green infrastructure costs and benefits
Today, The Water Research Foundation (WRF) released the CLASIC tool, which utilizes a life cycle cost framework to support feasibility and planning of stormwater infrastructure. CLASIC helps...
Posted: April 27, 2021, 8:09 AM