Print out this illustrated guide for sorting recycling, composting and waste (PDF)
UMBC's new bins have 3 or 4 slots:
Paper Recycling
Landfill
Compost (Commons & UC only)
Glass, Cans, Plastic Recycling
The labels are available as stickers, to show and explain how waste should be sorted all over campus. The new bins are located in the Commons, and at lecture halls, and will be phased in across campus. Outdoor recycling bins (black, metal, circular bins) accept all recyclables: paper, glass, cans and plastic.
Right: President Freeman Hrabowski demonstrating new 3-hole bins.
Compost
What can we compost?
All Food Waste
Soiled Paper Products

Such as: used napkins, paper cups, paper plates etc.
If the paper product is shiny with a layer of wax or plastic, it is trash)

Plant-based Packaging (see the full list)
Where can we compost?
True Grits Dining Hall (all food waste is composted in the kitchen, including used dishes)
University Center (ground floor by dining options)
Why Compost?
Composting allows food to decompose naturally into fertile soil. Otherwise, food waste decomposing in a landfill without oxygen would create methane, a problematic greenhouse gas contributing to climate change. Learn more at epa.gov!
History: Collaboration and Coordination
We were able to start composting our food waste in 2012 thanks to the efforts of SGA Sustainability Intern Madeline Hall (featured in the composting video below), our dining provider Chartwells, contract coordinators Campus Card, our green housekeeping group, and the company who picks up our compost and returns the decomposed food as fertile soil, Waste Neutral.
Composting has been phased into food services since 2012, starting with the Dining hall, then the Commons- to allow time to collaboratively select, purchase, and install new user friendly bins, to become a standard across campus.
Zero Waste Events
Choose plant-based compostable dishware and flatware (rather than plastic or Styrofoam) for your next event and be sure to request a portable compost bin and pick up service through events services!  The new SGA Green Paws fund allows student organizations to acquire plant based compostable materials at no additional cost.

Recycling
Paper: By collecting clean, dry paper, more paper gets new life! Desktop paper recycling bins are available through Donna Anderson, Recycling Manager.
Paper Shredding: We also provide a central service for bulk paper shredding. Contact Donna Anderson, Recycling Manager.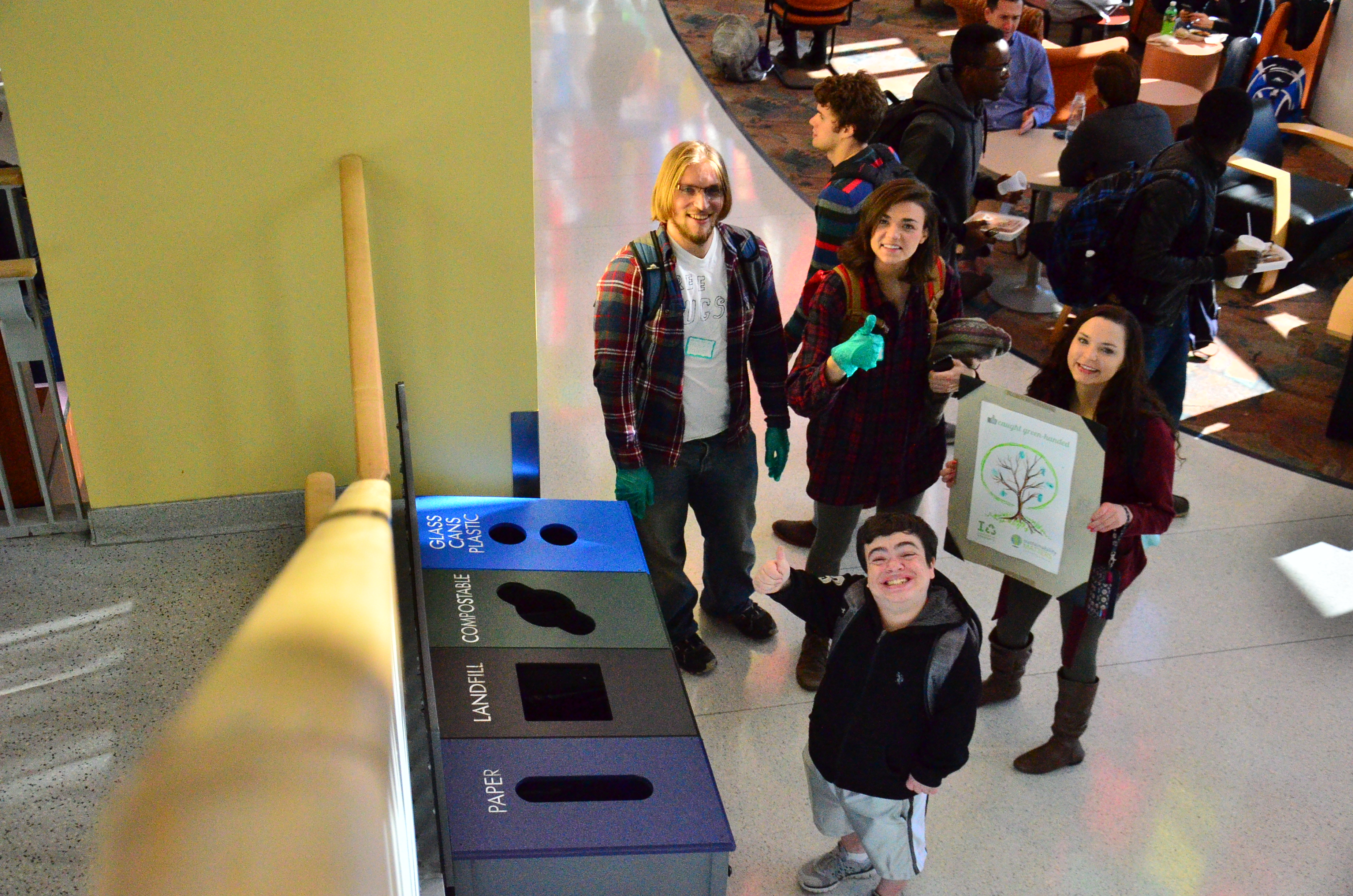 Plastic, Glass and Aluminum: For bottles, you may leave on the lids, wrappers and labels. Please empty of liquids.
Other Recyclables: Give your bulk items such as furniture and electronics new life with our donation program.  Contact Facilities Management:
Electronics recycling: Facilities Management holds popular E-cycling drives each semester.  In fact, Baltimore County requires we recycle e-waste to protect landfills or incinerators, as the toxic materials contaminate our ground, water and air. While you save yourself from clutter, we all save energy, waste, and costs on campus! Donna Anderson in Facilities Management coordinates the events with ReSET, the Retriever Sustainability Events Team.
Reporting: UMBC tracks and reports our recycling rates! Contribute to the campus goal of recycling 40% of waste, by reporting any ink cartridges, electronics, shredded papers or bulk donations.
Reduce & Reuse: Retrieve Waste
Let's skip the disposable cups and bottles- instead let's bring our own to save money and waste!
We get discounts at the register for refilling our own coffee mug on campus
If we're just going to toss that plastic bags & waxy receipt, we can let the cashier know we don't need one.
We can donate bulk items such as furniture through Facilities Management