RIDE UMBC TRANSIT SHUTTLES 
Try UMBC's free shuttle system with green features including a newly upgraded low-emissions fleet, easy-load bike racks, and solar powered bus shelters!
UMBC Transit: Shuttles connect UMBC with train stations, satellite parking,  BWI airport, and the shopping, dining, and entertainment destinations in the neighborhoods surrounding campus.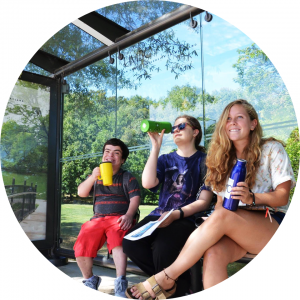 MARYLAND TRANSIT OPTIONS
Visit MTA, the Maryland Transportation Authority, to find ways to travel to and from campus, with tips including:
Save: Save $25 on your monthly fare with the MTA college pass, available through Off Campus Student Services
Bus: ​CityLink Yellow (YW) & Purple (PR), ​LocalLink 37, 76 & 77 connect UMBC with surrounding area and Baltimore City.
Train: Many trains serve the area, including MARC, a commuter train connecting the greater Baltimore and Washington, D.C. Areas with student-friendly fares.
Light Rail & Metro: Connecting Baltimore County & City, the metro travels east and west while the light rail north to south.
CARPOOL TOGETHER
UMBC helps to match faculty, staff or students with ride-shares to and from campus
BIKE TO CAMPUS
With bike racks, bike lockers, and even bike racks on the UMBC Transit buses, we have an array of options to stay active on two wheels!
Bicycles should be parked at racks or in lockers, and registered with the campus police to protect against theft.
The UMBC Cycling club organizes casual rides, road rides and mountain bike rides: long and short, near and far.
Catonsville Rails to Trails offers bike maps and trails in the area
Patapsco State Park offers a safe route to Ellicott City, and the nearby Gwynn's Falls Trail and Jones Falls Trail offer scenic and safe routes to access Baltimore city. Learn more about biking in Maryland.
BORROW A BIKE
Students can check out a bike for free for daily use at the Retriever Activity Center
UMBC's first Bike Share began in October 2013 with 6 hybrid road bicycles. They are available to sign out for free at the RAC (Retriever Activity Center) using your UMBC ID Card
The bike share was made possible by the SGA, the Climate Change Task Force, the Hub in Catonsville, UMBC Cycling Club and the RAC
FIX YOUR BIKE
The Fix-It station is a repair stand with tools, and can be used for

Cleaning and lubricating the chain
Inflating or changing a flat tire
Adjusting gears and brakes, and more

Two Fix-It stations are at the ground level of Commons Garage and Walker Garage, with a third planned for the Admin garage currently under construction.
CHARGE ELECTRIC VEHICLES
Home to 18 charging stations located around campus!
Free to use for the campus community as well as visitors with no registration necessary.
The UMBC fleet includes 16 electric vehicles.
BORROW ZIP CARS
Zip car is a convenient and accessible car share program available on campus.
Two zip cars are at UMBC and located on Center Road by Student Success Center.
You can rent a vehicle for the hour or for the day, as long as you are over 18. Gas & insurance included.
Visit http://zipcar.com/umbc to get started, and get $10 as a bonus!'