UMBC has a history of working to implement sustainable practices on campus while also researching sustainable opportunities in the classroom. These actions create and demonstrate positive social, economic, and environmental impacts both locally and globally. 
Ratings & Recognition
Featured News
Dear UMBC Community, UMBC's Office of Sustainability engages with the campus community in numerous ways to help inform our work to promote sustainability within our interconnected environment,...
Posted: September 7, 2021, 1:05 PM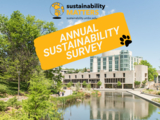 Sustainability on Tap (SoT) networking session @GCSHE
Do you know an advanced-degree/graduate student who is attending the upcoming Global Conference on Sustainability in Higher Education (GCSHE)? Are they also doing interesting...
Posted: September 1, 2021, 9:18 AM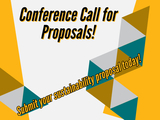 30+ new locations on campus for plastics recycling!
UMBC now offers collection and recycling of all clean plastic bags, films, and wraps! These items can be placed into one of the 35 yellow bins located throughout campus. The bins will be placed on...
Posted: August 31, 2021, 10:45 AM