UMBC has a history of working to implement sustainable practices on campus while also researching sustainable opportunities in the classroom. These actions create and demonstrate positive social, economic, and environmental impacts both locally and globally. 
Ratings & Recognition
Featured News
Showing items tagged sci. Show All
As a top performer for Water Stewardship - 3 years running!
UMBC has been recognized as a top performer in the 2022 Sustainable Campus Index, tying for second in the area of Water overall. This is UMBC's third year in a row in a top spot for this category....
Posted: September 8, 2022, 8:54 AM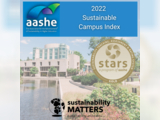 What classes have principals aligned with the SDGs?
UMBC's Office of Sustainability is excited to invite you to explore the NEW Sustainability Course & Sustainable Development Goals Inventory (SCI for short)! The SCI is developed to help...
Posted: November 30, 2021, 2:50 PM