UMBC has a history of working to implement sustainable practices on campus while also researching sustainable opportunities in the classroom. These actions create and demonstrate positive social, economic, and environmental impacts both locally and globally. 
Ratings & Recognition
Featured News
Showing items tagged grant. Show All
Social Action in Response to Climate Change
A $2,500 grant opportunity from the Bonner Foundation is available for developing an undergraduate or graduate course with a community organizing or social action component. Proposals that focus...
Posted: September 16, 2021, 9:18 AM
30+ new locations on campus for plastics recycling!
UMBC now offers collection and recycling of all clean plastic bags, films, and wraps! These items can be placed into one of the 35 yellow bins located throughout campus. The bins will be placed on...
Posted: August 31, 2021, 10:45 AM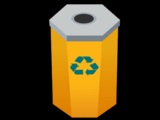 Want money for your student organization to continue to spread the word about your commitment to being green? Fill out this application before April 20th for a chance to get up to $1,000 in grant...
Posted: February 18, 2015, 10:25 PM