UMBC has a history of working to implement sustainable practices on campus while also researching sustainable opportunities in the classroom. These actions create and demonstrate positive social, economic, and environmental impacts both locally and globally. 
Ratings & Recognition
Featured News
Showing items tagged gis. Show All
Celebrate GIS with us!
GIS Day was first observed in 1999. The explosion of geospatial technology since then has expanded that idea into a global event that shows how geography and the real-world applications of GIS are...
Posted: November 16, 2022, 1:43 PM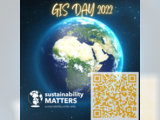 DYK: We have over 20 GIS tools for sustainability?!
GIS is a popular tool to use for sustainability and planning as humanity seeks to maximize the efficiency of the environment around us and protect what needs to be protected while maintaining...
Posted: November 17, 2021, 8:01 AM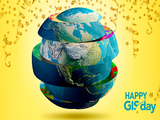 New Lecturer & Director of GIS and Cartography Labs
Please join us in welcoming Charles Kaylor as Lecturer & Director of GIS+Cartography Lab. Mr. Kaylor joins us from Temple University, where he spent the past 12 years in the position of...
Posted: August 13, 2021, 12:33 PM