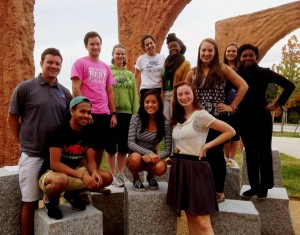 Are you passionate about sustainability and want to leave a positive impact at UMBC? If you said yes, then look no further because the Eco-Ambassador (EA) program was designed for students just like you!
What does an Eco-Ambassador do?
The Eco-Ambassadors are a core group of sustainability peer educators. As a peer educator, you will play a vital role in the promotion of sustainable living at UMBC. Peer education embraces the idea that members of the community, rather than outside experts, are in the best position to encourage choices for sustainable living.
As an Eco-Ambassador you will have the freedom to work on a campaign centered around a project of your choosing. You will work closely with the Office of Sustainability and your fellow ambassadors to achieve your goals for the year. The program is created not only to make UMBC more sustainable, but also help students gain skills and professional experience.
Why join?
Bolster your resume with service leadership
Join a team devoted to improving and helping the campus and the environment
Develop professional experience and public speaking skills
1-3 hours a week taking action and helping the community
Make connections and gain support to turn your ideas into action
Earn $250 per semester
Applications are currently closed for the Fall 20/Spring 21 semesters. However, follow us on myUMBC as we will be accepting applications for the upcoming academic year in May.