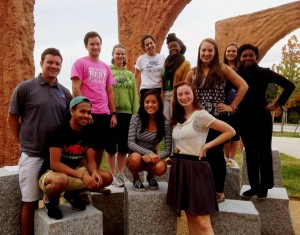 Eco-Ambassadors are a team of UMBC students partnering with university sustainability efforts to advance social responsibility and environmental sustainability in the student body. The team educates peers in residential, commuter, academic, and extracurricular settings about environmental solutions in order to empower UMBC to adopt environmentally friendly practices.
Program options:
Eco-Ambassadors make programs fun, engaging, and interactive while providing useful information on waste (reuse, composting, recycling), energy conservation (lights, hibernation, heating/cooling) and transportation options (carpooling programs, Transit shuttles, bicycling resources, etc)! Select from the options below, or contact us to design a specially tailored program!
Green Pledge: Having an event or meeting? Invite Eco-Ambassadors to share resources and information on living green on campus- plus get a Green Pledge photo and sticker to remember the commitment.
Eco-Presentation: What is environmental sustainability and why does it matter? How do each of us contribute to UMBC's footprint, and what are we doing about it? How do we sort our waste, save energy, and drive less? Learn all this, and more.
Eco-Game: An interactive game that will engage everyone with sustainable ideas, actions and knowledge. Great for student organizations and fairs.
Campus Sustainability Tour: How has the UMBC community co-created sustainable campus design features across campus? Explore sustainability and see the campus in a new light.
Sustainability Roundtable: A facilitated, interactive roundtable discussion to engage participants in exploring the themes, meaning, and application of UMBC's sustainability principles.
Residential Life Programs: Eco-Ambassadors are available to partner with RA's to provide active and passive programs on sustainability.