Community Garden & Food Forest
From edible landscaping to a wild foraging guide, a community garden to a perennial food forest, the UMBC community is researching, experimenting and implementing a variety of pathways towards healthy, nourishing food.

Learn more about Sustainable Food at UMBC: http://sustainability.umbc.edu/eat-sustainably/ 
UMBC's Community Garden: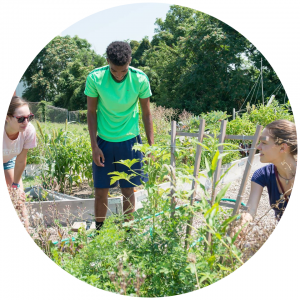 The Garden student organization describes the mission of the garden as "Seeking to reimagine the role of higher education in addressing problems of the world through the creation and engagement of our food garden that enables creativity in: research, applied learning, campus-community partnerships, pedagogy, social equity, diversity, and food sovereignty."
The UMBC community garden is managed by a student organization, who allocates plots to campus groups. The group also provides plot recipients with an orientation to learn how to grow in their section of the garden's raised beds. The groups choose what to grow and do with the food they grow in their plot. The garden also provides a shared tool shed, compost pile, fun events, and community work days.
How to get involved:
Joining the email list or registering for a plot are good ways to get involved and to learn how to get a plot or help with the garden.
Where is the garden:
The Garden is located next to the Police Station. Click here for a map.
How the garden got started:
Students led the creation of the Garden by developing and proposal and gaining approval and support over a two year process. In spring of 2014 the student body voted on SGA Prove-It grant funding for a campus improvement project. 70% voted for a community garden on campus. The garden is has been built by student volunteers along with a broad network of staff and faculty advisers and mentors.

Learn more on the BreakingGround Blog!
UMBC Food Forest: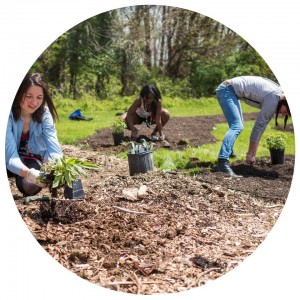 Forest gardening is a low-maintenance sustainable plant-based food production and agroforestry system based on woodland ecosystems, incorporating fruit and nut trees, shrubs, herbs, vines and perennial vegetables which have yields directly useful to humans. Making use of companion planting, these can be intermixed to grow in a succession of layers, to build a woodland habitat.
The Food Forest on the UMBC campus seeks to create a long term source of food, medicine, fuel, education, and habitat for a range of different species. The creation of the food forest will provide healthy food for students on campus and for the surrounding non-UMBC community. The food forest will feed students, teachers, faculty, and community members for many years (Some food forests have proven to produce food for hundreds of years). The main issues this project will address are food security, building community resilience, and decreasing the community's need for outside food and fertilizer. Food forest will provide healthy food access on campus for the UMBC community and non community members while promoting the most ecologically sustainable model for food production.
This team of students is designing and implementing on campus an "edible ecosystem," that is, "a consciously designed community of mutually beneficial plants and animals intended for human food production." Jacke, D., & Toensmeier, E. (2005). Edible Forest Gardens (Vol. One, p. 1). White River Junction, Vt.: Chelsea Green Pub. Students in this team are also collaborating with the the Baltimore Orchard Project, a non-profit in Baltimore City that supports fruit and nut tree harvesting and cultivation to improve healthy food access for current and future generations. On April 28th, 2015 faculty and students installed the core features of this food forest at the foot of the hill below the UMBC Garden.
Sources:
Food Forest and Climate Garden
http://joshcancreate.com/final/index.html
https://umbcbreakingground.wordpress.com/tag/the-garden/