Baltimore First Annual Zero-Waste Day!
Learn more about community organizing in Baltimore!
Thursday, April 22, 2021
6:00 PM – 8:30 PM
Online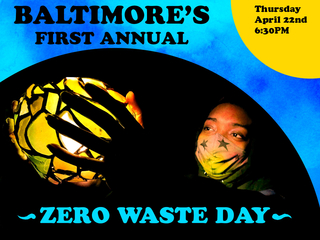 Join residents, students and officials to advance Baltimore to a Zero Waste system that benefits communities, labor and our environment.
About this Event
Goucher College, Towson University, and University of Maryland Baltimore County (UMBC) have partnered with local grassroots organizations for this event series. Combating Toxic Injustices: Grassroots Solutions for Healthy Communities is a storytelling series to understand environmental injustice in Baltimore, the rich history of grassroots organizing, and solutions built by the community for the community.
On April 22nd from 6:30-8:30 PM South Baltimore Community Land Trust (SBLT) will be holding Baltimore's very first Annual Zero Waste Day.
Throughout our Combating Toxic Injustices Series we have been speaking on issues of environmental racism and injustice in the Baltimore area and the importance of uplifting and supporting solutions built directly by the community. We believe there is no better way to do that then to start now by gathering in support for an event completely organized by grassroots activists.
To stand in solidarity we are urging community members from Towson, UMBC, and Goucher to attend this event which will round out our series. 
To register for this event go to, https://www.eventbrite.com/e/baltimores-first-annual-zero-waste-day-tickets-147890914707