---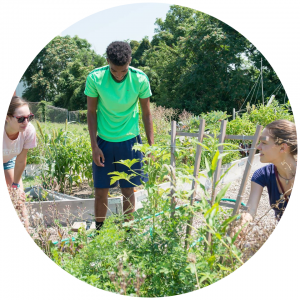 The Garden student organization describes the mission of the garden as "Seeking to re-imagine the role of higher education in addressing problems of the world through the creation and engagement of our food garden that enables creativity in: research, applied learning, campus-community partnerships, pedagogy, social equity, diversity, and food sovereignty."
The UMBC community garden is managed by a student organization, who allocates plots to campus groups. The group also provides plot recipients with an orientation to learn how to grow in their section of the garden's raised beds. The groups choose what to grow and do with the food they grow in their plot. The garden also provides a shared tool shed, compost pile, fun events, and community work days.
How to get involved:
Joining the email list or registering for a plot are good ways to get involved and to learn how to get a plot or help with the garden.
How the garden got started:
Students led the creation of the Garden by developing and proposal and gaining approval and support over a two year process. In spring of 2014 the student body voted on SGA Prove-It grant funding for a campus improvement project. 70% voted for a community garden on campus. The garden is has been built by student volunteers along with a broad network of staff and faculty advisers and mentors.