UMBC has made advances over the last ten years to reduce the total amount of GHG emissions attributed to transportation by improving the efficiency of our fleet, providing transportation alternatives, and encouraging behavior change.  Since FY 2007, the university reduced its MTeCO2 contributions from transportation by 6% from 33,336 metric tons to 31,400 metric tons, while supporting an increase in student enrollment of over 10%.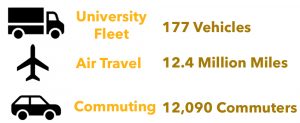 The top three achievements contributing to these measurable reductions in GHG emissions were:
Reduction in sanctioned air travel;
Expansion of our transit system to seven routes carrying up to 1,200 riders each day; and
Upgrades to cleaner, higher-efficiency cars, buses, and other vehicles.
Additional measures were put in place to promote less reliance on the use of low-efficiency single-occupancy vehicles.
Installation of bicycle parking facilities and fix-it stations to encourage student bicycling and commuter cycling;
Implementation of a ride-sharing program and preferred parking spaces for carpoolers;
Installation of two electric vehicle charging stations; and
Smaller more efficient shuttle buses.