Resilience, as defined by the U.S. Department of Homeland Security is,  "the ability to prepare for and adapt to changing conditions and withstand and recover rapidly from disruptions." Ultimately, it is the ability of a system to return to normal.  Resilience capacity is related to multiple stakeholders on campus and in the surrounding communities.  Second Nature encourages a systems-thinking approach to resilience and encourages campuses to consider the relationships between the following five lenses: infrastructure, economics, ecosystem services, health and wellness, and social equity and governance. Visit Second Nature's reporting platform to view UMBC's Campus-Community Resilience Assessment Report. 
UMBC currently utilizes a robust annual Hazards and Vulnerability Assessment (HVA) process.  The resiliency assessment process permitted UMBC the opportunity to augment our HVA process by considering the additional challenges of a changing climate.  By analyzing resilience indicators through natural, socio-economic and built environment lenses UMBC not only identified additional strengths but also found several opportunities to bridge current resilience gaps.
Climate Data & Analysis
UMBC utilized the U.S.  Climate Resilience Toolkit (USCRT) and the latest report for the Maryland Commission on Climate Change (MCCC) to identify and understand the anticipated impacts of climate change for Baltimore County/Baltimore City Maryland.  USCRT offers observed annual averages from 1950-2013, climate model simulations (i.e., hindcasts) from 1950-2005, and climate model projections for two possible future scenarios (i.e., higher Emissions and lower Emissions) out to 2100.  The MCCC relies upon the best available scientific data and projections available specifically for the state of Maryland.  For this initial assessment, we considered the trajectory of the average higher and lower emissions scenarios.  The general summary of UMBC's climate future is wetter and warmer.
Temperature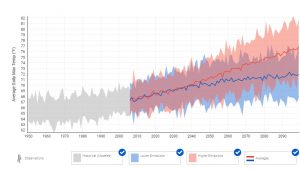 Based on the currently available modeling, the average maximum daily temperature is expected to increase by approximately three degrees Fahrenheit by 2040.  During the decade between 2040 and 2050 the average maximum daily temperature is expected to experience a significant divergence.  In the higher emissions scenario, a temperature increase of approximately six degrees Fahrenheit is expected by 2100.  Whereas, in the lower emissions scenario (a temperature increase of approximately one degree Fahrenheit is expected by 2100.  The MCCC notes "Maryland is expected to have a notable increase in days with extreme heat (over [90°F] by 2050."
Precipitation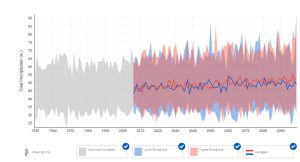 Annual total precipitation forecast projections remain at relatively constant levels, in both higher and lower emission scenarios, over the next 80 years.  However, the projections suggest that Maryland will experience increased precipitation during the winter and spring with fewer changes observed in the summer and fall.  This emerging pattern, coupled with greater evaporation and earlier snowmelt, will elevate the risk of experiencing drought conditions during the growing season.
 Degree Days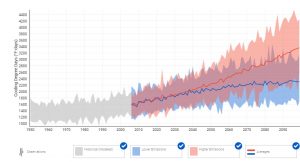 Degree days reflect changes in climate and are used as an indicator for the energy demand for heating or cooling buildings and are the difference between the daily temperature mean and 65°F.  In both high and low emission scenarios heating degree days (HDD) decrease; whereas, cooling degree days (CDD) increase.  This anticipated change suggests that UMBC's demand for cooling will increase as the cooling season is expected to last longer and have more intensity.
Assets & Strengths
UMBC has a number of strengths and assets associated with the university, which increase our campus resilience.  As the campus continues to improve our resilience, we recognize the importance of sharing our best practices with not only the campus community but also neighboring communities in Baltimore County.  Collaborating and sharing best practices will allow UMBC to grow our adaptive capacity; thus, allowing us to better serve our students, employees, and visitors.  UMBC has identified the following areas as major strengths/assets in our resilience portfolio:
Robust and continuously updated emergency operations planning, procedures, and structure
Relatively newer, well-maintained, campus infrastructure
Appropriate campus long and short term planning
Well established campus safety-related services for students and employees
Extensive local/regional knowledge base found within the campus community
Climate Vulnerabilities
UMBC considered the risks identified by campus stakeholders and our annual HVA.  UMBC utilized the list from the 100 Resilient Cities Climate Change related hazards, impacts, and exacerbating factors to select the following climate related vulnerabilities to our campus:
Climate Change Hazard – Extreme Cold
Climate Change Hazard – Extreme Heat
Climate Change Hazard – Hurricane
Climate Change Hazard – Severe Storms
Climate Change Hazard – Tornado
Climate Change Impact – Infrastructure Failure
Climate Change Impact – Power Outage
From these identified vulnerabilities, UMBC considered to evaluate the following three current and projected climate change impacts and their associated threats:
Increased frequency and duration of severe storms with the potential to see more tropical systems and systems capable of tornadic activities
Warmer, wetter winters
Hotter, drier summers with more high heat days