Education & Research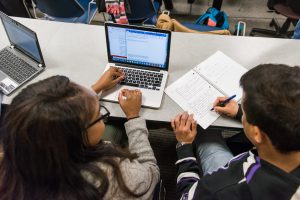 UMBC offers over 130 courses, in 34 different academic disciplines, which provide sustainability-learning opportunities at both the undergraduate and graduate level. The majority of these courses are associated with the study of the physical sciences as they related to climate change; additionally, there are several courses related to the study of politics and philosophy associated with climate change.  UMBC features robust curriculum vitae of climate related research. Highlights of major accomplishments include:
2019: Associate professor of chemical, biochemical, and environmental engineering Lee Blaney et al. published a landmark study on contaminants of emerging concern in the Chesapeake Bay. The research study is the first of its kind and quantifies concentrations of antibiotics, estrogenic hormones, and UV-filters in multiple locations of the Bay.
2018: Professor of language, literacy, and culture, Christine Mallinson, serving as the inaugural director opened the Center for Social Science Scholarship. The Center will emphasize areas of research such as civic and political participation, global patterns of labor and migration, educational access, and the relationship between humans and the environment.
2017: Center for Urban Environmental Research and Education's Stuart Schwartz is recognized for his project, which involved replacing about 3,700 square feet of an existing concrete parking lot at the Maryland Science Center with pervious concrete, a type of concrete that allows water to pass directly through, which reduces runoff.
2016:  Joint Center for Earth Systems Technology's Fred Huemmrich et al., provided proof-of-concept for a new technique to measure photosynthesis in evergreens allowing scientists to more accurately quantify carbon dioxide uptake in forests.
2015: UMBC collaborated with 14 other academic institutions to become a founding member of the Urban Water Innovation Network (UWIN). The mission of UWIN is to create technological, institutional, and management solutions to help communities increase the resilience of their water systems and enhance preparedness for responding to water crises.
Outreach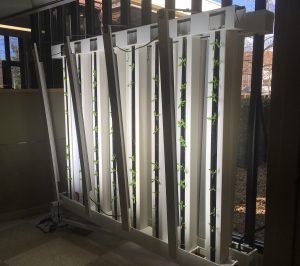 UMBC has primarily focused attention on reducing waste associated with dining services. Over the past decade the following dining services sustainability implemented the following programs:
All dining facilities on campus feature trayless service. This practice reduces the amount of energy, water, and food waste associated with meals.
True Grit's customers have the option to utilize the Ozzi reusable to-go container system – which eliminates unnecessary container waste.
True Grit's offers greens grown on location with their hydroponic garden
Leftover prepared food is donated to area shelters by the student led Food Recovery Network
Food prep scraps and food waste scraps are diverted for compost collection
Waste oil is collected and converted into bio-fuel or animal feedstock
Contractual mechanisms utilized to ensure the best sustainable practices by our dining services vendor

Preference for the purchase and transport of food to minimize environmental impacts, such as seasonally available local foods (within 150 miles),
Preference for foods grown and harvested using ecologically sound principles (e.g. sustainable seafood), and those foods certified as fair trade (i.e. good food)
Target that 25% of all food meets sustainable or fair trade certifications
Initiatives to ensure that management, kitchen and serving operations deploy resource-saving practices, such as energy-efficiency tactics
Adopting kitchen practices to minimize food waste
Incorporating sustainable design principles in construction projects undertaken on campus
Full participation in the UMBC's recycling program