Academe
UMBC's extensive record of incorporating climate change and environmental research into the academe has greatly influenced our climate action plan. Our key research themes comprise Environmental Sciences and Engineering, especially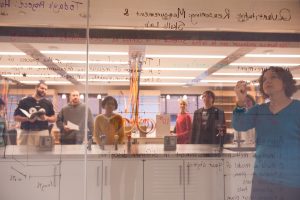 Atmospheric Physics, Remote Sensing and Contaminant Remediation; Life Sciences & Biotechnology, including Marine Biotechnology and Health Sciences; as well as Health Equity, Policy Studies, and Public Humanities and Art. These educational and research hubs, collaborate with various partners, to focus on issues related to climate change ranging in scale from local to global. We recognize that the study of climate, and more broadly sustainability, presents an interdisciplinary opportunity for students and faculty to incorporate basic environmental literacy into their discipline.
Specifically, the following pedagogical assets are opportunities for the CAP:
Outreach
UMBC closely works with many campus partners to engage with the campus community and our neighbors. A specific example of the University's outreach includes our relationship with dining services to expand sustainability initiatives associated with the food service offerings on campus.  UMBC's dining vendor is continuously exploring local options for food procurement and novel approaches for the sustainable preparation of serving food at an institutional level. The sourcing, preparation, diversion, and disposal of food offers many opportunities for the reduction of emissions associated with the food supply chain.