---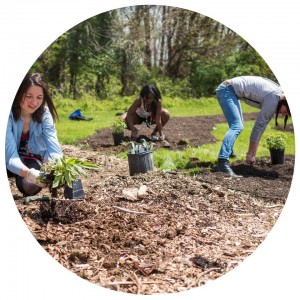 Forest gardening is a low-maintenance sustainable plant-based food production and agroforestry system based on woodland ecosystems, incorporating fruit and nut trees, shrubs, herbs, vines and perennial vegetables which have yields directly useful to humans. Making use of companion planting, these can be intermixed to grow in a succession of layers, to build a woodland habitat.
The Food Forest on the UMBC campus seeks to create a long term source of food, medicine, fuel, education, and habitat for a range of different species. The creation of the food forest will provide healthy food for students on campus and for the surrounding non-UMBC community. The food forest will feed students, teachers, faculty, and community members for many years (Some food forests have proven to produce food for hundreds of years). The main issues this project will address are food security, building community resilience, and decreasing the community's need for outside food and fertilizer. Food forest will provide healthy food access on campus for the UMBC community and non community members while promoting the most ecologically sustainable model for food production.
This team of students is designing and implementing on campus an "edible ecosystem," that is, "a consciously designed community of mutually beneficial plants and animals intended for human food production." Jacke, D., & Toensmeier, E. (2005). Edible Forest Gardens (Vol. One, p. 1). White River Junction, Vt.: Chelsea Green Pub. Students in this team are also collaborating with the the Baltimore Orchard Project, a non-profit in Baltimore City that supports fruit and nut tree harvesting and cultivation to improve healthy food access for current and future generations. On April 28th, 2015 faculty and students installed the core features of this food forest at the foot of the hill below the UMBC Garden.