ETF Clean Up: Herbert Run
UMBC Campus Clean Up with ETF!
Friday, May 26, 2017
4:00 PM - 5:00 PM
The Commons : Lower Level near Yum Shoppe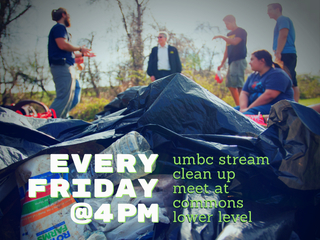 The Environmental Task Force is a group of students who have adopted the Herbert Run Stream on campus and organize volunteers for regular litter clean ups. 
Our clean ups this semester will meet at and depart from the lower level of the Commons at 4 pm!