Who are Eco-Ambassadors?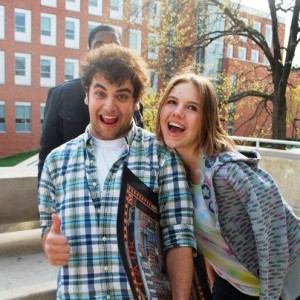 A team of eight to ten UMBC students partnering with university sustainability efforts to promote social responsibility and environmental sustainability to the student body at UMBC. Eco-Ambassadors are student representatives who will study and practice their skills as environmental change agents. These students will educate peers in residential, commuter, academic, and extracurricular settings about environmental solutions in order to empower them to live in environmentally conscious ways.
Goals:
Goals of the program include enhancing students' knowledge and skills to successfully communicate sustainability to their peers, increasing overall student awareness of environmental initiatives and ways to effect individual and group change on campus, and promoting a culture of environmental stewardship within the student body and across campus.
Who do Eco-Ambassadors Work With?
Eco-Ambassadors work with the Eco-Ambassador Coordinator Intern. The intern reports to the UMBC Sustainability Coordinator, who also serves as an adviser to the team.
Eco-Ambassadors will also partner with UMBC Climate Change Steering Committee Work Groups to assist with developing and distributing promotions to the student body on a focus area, to include the following:
Energy conservation
Waste reduction and recycling
Transportation
Research and education
Applications are live, and the application deadline to become an Eco-Ambassador for the upcoming year is September 1st at noon.